Boys! As easy as A, B, C, D, E, F, G!
Alright boys and girls, it's Monday morning and it's time to blog. The funny thing is I'm at a loss for words. I know, hard to believe, but true. I was tapping my foot channeling my creative energy when my boss suggested, "Write about something interesting." Interesting? As profound a suggestion that is, I am still sitting on this
leather chairs
waiting for something to come to me. Aha! Gifts for boys! Such a struggle for some ya know? Not for me! Read on for pearls of wisdom!
A- Car:
(Not in the budget for all the bargain hunters who read my blog? We'll get to ya'all in just a momento)! Men love cars…..some guy told me once that cars to men are like scrapbooks to women….so they love them. And, if you're a sugar momma, black AmEx card carrying success then by all means….Vroom Vroom!
B-eer:
As in Pacifico beers! By the way did you know that beers go exceptionally well with chocolate chip cookies? Yeah their like cheese to wine. Just ask my friend Will. Will got his appendix taken out this past week. Ouch! I know, so what better to console him than a prescription from Dr. Irvina for chocolate chip cookies and Pacifico beer? Now some girls I know refrain from this kind of stuff because they think it looks too girly. Of course, if you're going to wrap it with hot pink flowers and violet organza ribbon he's gonna be less than excited to show his roommates. BUT! If you put it in a natural basket, use earthy raffia for the ribbon then he's going to be totally stoked. Check out the pictures below and thank me with a
Watermelon Daiquiri
later. .…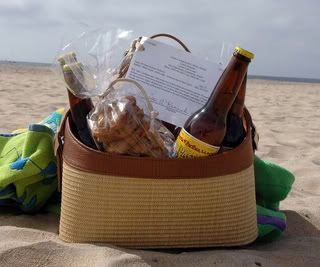 C-upcakes:
These come with some precautions....remember the "Ahhhhhhh! So cute" factor? When you're making crafts? The same goes for anything you bake or cook. If you're going to make a baked good a gift it ought to look like a perfect 10 and be lip lickin' scrumptious! Now, it doesn't have to be difficult to do that though. Honestly, I'm not a big cupcake baker myself, but I know a pretty cute girl that is, Patty! She is this totally cute New York gal who is at the height of
easy entertaining
and
simple recipes
check out her website at
http://www.pattyspantrynyc.com/
. Try her recipe for
apple cake
. Yummy! Also if you're looking for some more great cupcakes you can never go wrong with Sprinkle's Cupcakes (or as my girlfriends call them, "crack")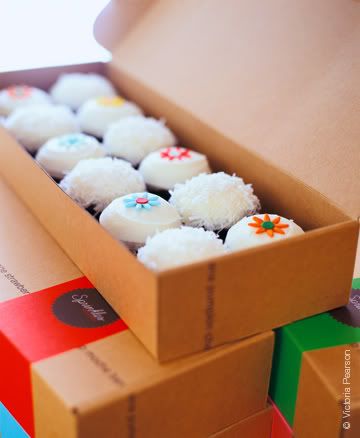 D-eep tissue massage:
My boss…okay…the guy may be the connoisseur of women, the cream of the crop at great conversation and have impeccable taste in
leather sofa sets
, but when it comes to taking a chill pill the guy is in need of some serious 911 help from Chica Irvina. So, a gift certificate for a massage at the local spa made quite the splash for his birthday. He said he was going to use it the same day!
E-ndless kisses:
Write out a cute little gift certificate on your computer for "Endless kisses." A very big smile….100% Guaranteed!
NOTE: Not to be used on friends, co-workers or family members (unless of course you are under the age of two.)
F-lourless Chocolate Cake:
WARNING: If you're going to serve this to anyone (guy or girl) be prepared for a marriage proposal on the spot! No joke, my girlfriends give me the eyes after I make this recipe at girls nights. Guys just tend to blurt out "I love you" over and over again as he devours it in one sitting at the
dining room sets
. So again…Bake with caution: Here is the recipe: Bake'r up girls!
INGREDIENTS
1/4 cup water
1/8 teaspoon salt
1/4 cup and 2 tablespoons white sugar
4 ½ oz bittersweet chocolate
4 ½ oz cacao chocolate
1/2 cup unsalted butter
3 eggs
DIRECTIONS
Preheat oven to 300 degrees F (150 degrees C). Grease one 10 inch round cake pan and set aside.
In a small saucepan over medium heat combine the water, salt and sugar. Stir until completely dissolved and set aside.
Either in the top half of a double boiler or in a microwave oven melt the bittersweet chocolate and cacoa. Pour the chocolate into the bowl of an electric mixer.
Cut the butter into pieces and beat the butter into the chocolate, 1 piece at a time. Beat in the hot sugar-water. Slowly beat in the eggs, one at a time.
Pour the batter into the prepared pan. Have a pan larger than the cake pan ready, put the cake pan in the larger pan and fill the pan with boiling water halfway up the sides of the cake pan.
Bake cake in the water bath at 300 degrees F (150 degrees C) for 45 minutes. The center will still look wet. Chill cake overnight in the pan or serve warm. To reheat put each slice in the microwave for 25 seconds. Add some vanilla ice cream for yummyness!
G-adgets: As in watches….pretty, pricey and perfect! You know where to go, the mall, the boutique. Wind it and wrap it!
Alright my lady friends I hope you enjoyed this week's blog!
Until we meet again, keep sweet, smiley and shoppin' at
www.FurnitureFromHome.com
Ciao!
Irvina
xoxoxo